Chief Financial Credit Union VP named Elite 40 Under 40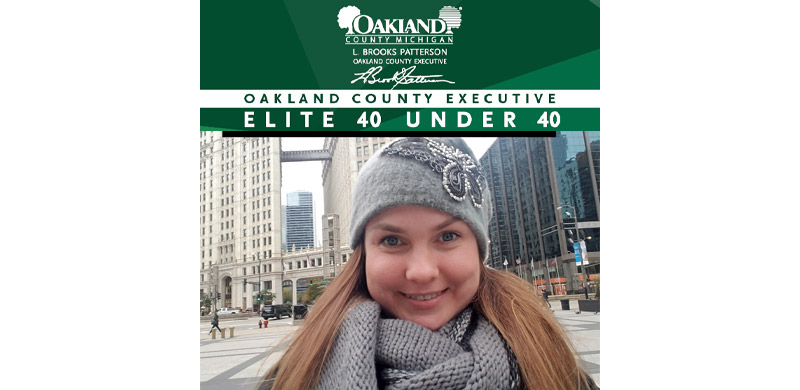 Oakland County Elite 40 Under 40 Recipient Redefines the Road to Success
(Rochester Hills, MI) When Cheryl Boodram made the transition from restaurant manager to part-time teller in 2010, she never imagined she would be named Vice President seven short years later. She also never dreamed of being in a class of the most elite professional individuals in Oakland County.
Yet, by this January, both of those things happened. Boodram, Vice President of Sales and Marketing - a department she established two years ago at Chief Financial Credit Union, was named as one of Oakland County Executive's Class of 2018 Elite 40 Under 40. Each year, this honor is achieved by just 40 individuals recognized by L. Brooks Patterson, Oakland County Executive, for their innovation, talent and leadership in Oakland County.
Boodram credits this success to the many mentors she has been blessed with along her journey, the chances afforded to her and a lot of hard work. "I apply the customer service skills I learned from Michael Allen, owner of Hoops in Auburn Hills, on a daily basis. The transferable skills learned in the service industry are too often taken for granted." Boodram chuckles, "When your income depends on giving great customer service, you learn great customer service!"
To name just a few of Boodram's contributions both to Chief Financial and the community, in 2015 she created the iCare program at Chief Financial to incentivize its dealership partners to donate to partnering community nonprofits. From 2015-2016, iCare alone raised more than $100,000 for community nonprofit organizations. In 2016, Boodram developed the "Share the Rewards" program to allow Chief Financial members to earn donations for community partners by making everyday purchases and earning their own rewards. These rewards continue to grow and have already exceeded initial projections.
"Since her teller days, Cheryl showed great promise. Her "just do it" approach and endless hard work is what fueled her advancement through the ranks to leader of a very successful Indirect Lending Department and ultimately to her developing our Sales and Marketing Department," said Chief Financial Credit Union President and CEO, Tom Dluzen. "Cheryl is an inspiring example of what hard work and dedication can achieve."
"My experiences at Chief Financial have been an integral part of my professional and personal development. Tom believed in me, he gave me the freedom and guidance to achieve, that is powerful motivation," said Boodram. "I believe we are all here with the purpose to help others, it is how we are meant to achieve that purpose that is ours to discover. I measure my success by the positive impact I have on my community, family and team."
It is that mindset, and the passion behind it that has given Boodram the drive to achieve her personal and professional goals. There isn't a week that goes by that Boodram isn't involved in a community event, meeting with nonprofits to see how she can best serve them, or thinking of new and innovative ways to take giving backto the next level.
"My career is seeing the benefits of that passion because our organization has folded responsible social responsibility into our culture," said Boodram. "I'm going to keep aiming high and seeking out innovation, my motto is: I didn't come this far, to only come this far." And for her, that is what makes you elite.