Casual for a Cause 2017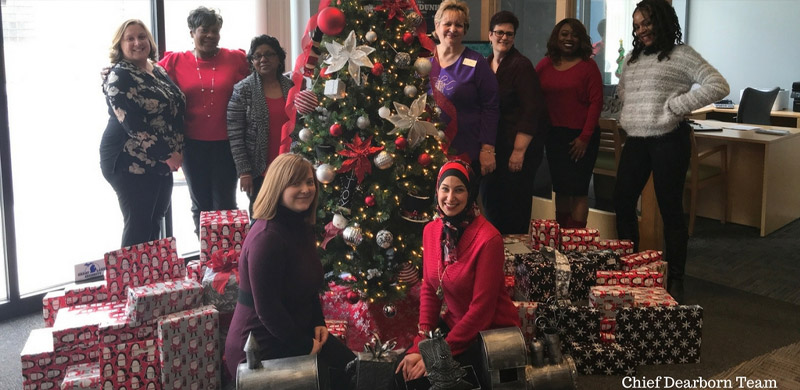 Pictured: (top row from left to right) Lindsay Warf, Casaundras Maxwell, Lillu Singh, Mary Boni, Caroline Pinsky, Natasha Sexton, Yolanda Harris.(bottom row from left to right) Amanda Kulakowsky, Fatima Taha.
Casual for a Cause Turns into Holiday Gifts for Families across Metro Detroit
Michigan - Companies across the country empower their employees to give back to organizations through casual days, offering a chance to dress comfortably and give to worthy causes. Locally, Chief Financial Credit Union employees have taken their casual days to the next level, allowing them to give some holiday cheer to the communities they serve.
"We would not be able to help our children in need were it not for businesses such as Chief Financial Credit Union," said Lawrence Johnson, Director of Dearborn Goodfellows. "We are deeply grateful to the staff and leadership at this Credit Union and thank them from the bottom of our hearts."
In 2016, Chief Financial's Dearborn location decided to collect funds to adopt a family of nine through the Goodfellows program. The Dearborn Goodfellows' motto is 'NO CHILD WITHOUT A CHRISTMAS'. The organization provides Christmas cheer and presents during the holidays for children in need, averaging nearly 1,000 children annually throughout the City of Dearborn. Goodfellows reaches out to business and community leaders to 'adopt' a family to provide holiday help for the entire family.
"My team and I love being able to give back whenever possible. It truly fills our hearts with joy to be able to help this family in need within our community," said Fatima Taha, Dearborn Branch Manager. "Putting a smile on the faces of these young children is a gift in itself, and we couldn't ask for a better Christmas gift."
This year, Chief Financial has decided to use their Casual for a Cause funds to adopt families for Christmas and each team is helping families from their local communities. Families in the Dearborn, Pontiac and Rochester areas will all have a lot more presents and even a new washing machine under the tree thanks to their efforts.
"Our Dearborn Team did such an amazing job coming together last year and giving a local family a real Christmas, they inspired all of us," said Lindsey Daines, Chief Financial Credit Union VP of Culture. "We decided to see if all of our teams could come together and adopt families in their communities."
Chief Financial's Rochester Team reached out to the Rochester Community School Foundation in search of a family to adopt in their community. They were told there were actually two families in need of help and without missing a step, Chief Financial adopted both.
Chief Financial's Pontiac Team is working with their recently added community partner, Haven, to help grant the Christmas wishes of a family in Pontiac. The teams have been working tirelessly to hunt down deals and make every dollar count since Black Friday.
While most of the shopping is done and the presents are wrapped, Chief Financial Credit Union continues to look for ways to brighten their communities during the holiday season and in the coming year.
About Chief Financial Credit Union
Chief Financial Credit Union prides itself on being the only financial institution headquartered in the Greater Rochester Area. With a commitment to empowering financial success and inspiring creative philanthropy, Chief Financial has been meeting the needs of our members since 1941 through its branch locations in Pontiac, Dearborn and Rochester Hills, Michigan. Chief Financial is also the official credit union of Leader Dogs for the Blind and Rochester College. For more information, visit www.chiefonline.com.