Champion Award presented to Tom Dluzen of Chief Financial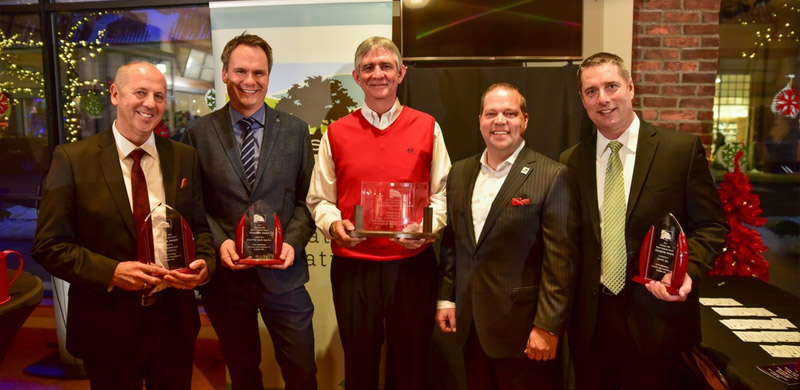 Rochester Hills, MI - Chief Financial Credit Union CEO, Tom Dluzen, was recently recognized by the Mayor's Business Council at the annual awards meeting held at the Village of Rochester Hills on Dec. 14. The Mayor's Business Council Champion Awards were presented to individuals recognized for their overall performance in the past year, be it: overcoming an obstacle, experiencing tremendous growth, expanding operations, launching a new successful technology, celebrating a milestone, or giving back to the community.
"It is a privilege to recognize Tom Dluzen as one of our Champion Award winners," said Mayor Bryan K. Barnett. "Tom and Chief Financial Credit Union have been an absolute blessing to the City of Rochester Hills and our greater community. Whenever there is a need, Chief Financial steps up. Whether it be for the Festival of the Hills or the Mayor's Business Council or most notably, their support of Innovation Hills, Tom knows what it means to be a part of the community."
Dluzen was recognized for his leadership role at Chief Financial Credit Union. The organization gives back in great and small ways on a daily basis in Rochester Hills and all of the communities it serves. In addition, Chief Financial has launched several integral community partnerships including Leader Dog for the Blind, Rochester College and Innovation Hills Park.
"Tom truly leads his team by example and Chief Financial has become one of the most engaged businesses in the city," said Barnett. "We look forward to continuing that long standing relationship."
Formed by Mayor Bryan K. Barnett, the Mayor's Business Council fosters an environment in which commerce can prosper by promoting collaboration among industry, education and government.
For more information about Chief Financial Credit Union and the other Michigan nonprofit organizations it supports, visit www.chiefonline.com.
About Chief Financial Credit Union
Chief Financial Credit Union prides itself on being the only financial institution headquartered in the Greater Rochester Area. With a commitment to empowering financial success and inspiring creative philanthropy, Chief Financial has been meeting the needs of our members since 1941 through its branch locations in Pontiac, Dearborn and Rochester Hills, Michigan. Chief Financial is also the official credit union of Leader Dogs for the Blind and Rochester College. For more information, visit www.chiefonline.com.