Lake Norcentra Park project announces 2016 presenting sponsor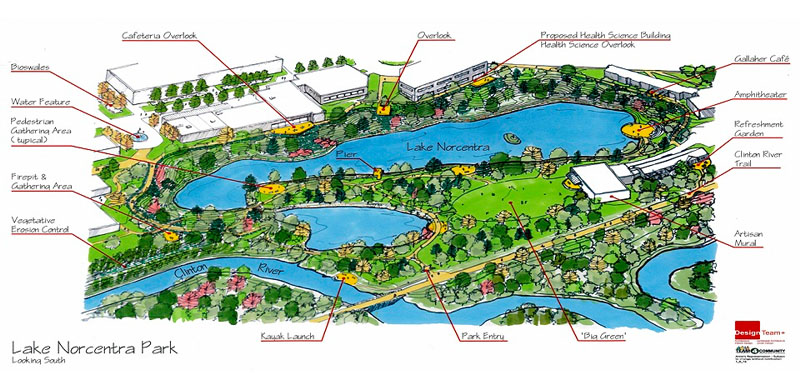 Chief Financial Credit Union sponsorship brings community programming to Lake Norcentra Park
Rochester Hills, Michigan, February 2016 – Community programming and construction on the Lake Norcentra Park project at Rochester College will begin this spring with the support of 2016 presenting sponsor Chief Financial Credit Union.
The goal of the project is to transform the area surrounding Lake Norcentra to create a community service learning park for the entire Rochester community.
Located on the north side of Rochester College's campus where the Clinton River and Clinton River Trail intersect, the scenic area comprises 14 acres of high bluffs, historic buildings, wetlands and woodlands in the heart of Rochester Hills.
"At Chief Financial Credit Union, we're always looking for ways to enhance our community and Lake Norcentra Park is a shining opportunity," said Tom Dluzen, CEO of Chief Financial Credit Union. "Our goals through this sponsorship are to inspire strategic partnerships between our employees, members and communities, and to be forever remembered for the good we did, the chances we gave and lives we changed. Supporting a beautiful park in the heart of a thriving community is the perfect way to achieve that."
Chief Financial Credit Union's title sponsorship will play a vital role in introducing the Rochester community to Lake Norcentra Park by providing community programming throughout the year. Plans for this summer include live music and entertainment, a 'Cheer Garden' for trail-side concessions, as well as several service and learning opportunities.
The credit union will also announce a juried art competition this spring, which will solicit local artists to design a Rochester community mural that will be visible from the Clinton River Trail.
"We're creating Lake Norcentra Park to be a place that brings neighbors together to enjoy what it means to be in the greater Rochester community," said BT Irwin, consultant and project manager of the park and Rochester College alumnus. "Chief Financial's support will make that possible. This spring and summer, we invite the entire community to stop by the park and see the exciting progress that's being made."
The master plan for the park includes several initiatives, including:
pop-up concessions along the Clinton River Trail;
bike parking and repair station;
signage that interprets the history and nature of the site;
demolition of existing maintenance building to make an open space for events and recreation;
boat and fishing access along the Clinton River;
hammocks, seating, and tables;
a 900-square foot Rochester Community Mural;
scenic views of Clinton River and Lake Norcentra; and
entertainment and learning programs year-round.
To get involved or for updates on the project, follow the Lake Norcentra Park Facebook page or visit http://lakenorcentra.rc.edu
About Rochester College
Founded in 1959, Rochester College is an accredited, independent liberal arts college that pursues academic excellence in a Christian setting. With more than 1,000 students, both in traditional and adult learning programs, RC offers bachelor degree programs at four locations and a master's degree in religious education. For more information about Rochester College, visit www.rc.edu.